8. Amadeus Agility Worldcup 2017
---
Series of events
You can switch between all available events.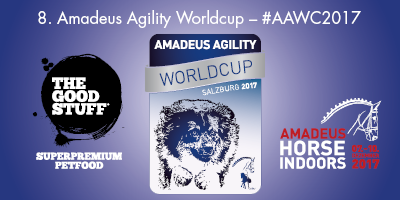 Start / estimated end
08.12.2017 / -
Organizer
Amadeus Agility Worldcup
Area
Agility
Location
Am Messezentrum 1 5020 Salzburg, Österreich
Subscribe start / end
10.11.2017 18:00 / 13.11.2017 18:00
Room / camping reservations
available
Available runs
Open A-Lauf: LK1, LK2, LK3
Open Jumping: LK1, LK2, LK3
Weather archive (at the location)
broken clouds
1 °C ( 1 °C / 1 °C)
Description
Agility - schneller Sport für schnelle Hunde. Beim Amadeus Agility Worldcup treffen sich jedes Jahr kurz vor Weihnachten die besten Agility-Teams zum großen Show-Event. Attraktiver Hundesport auf Top-Niveau. Fast sport for fast dogs!
6000 EURO IN GOLD FÜR DIE AMADEUS WORLDCUP-CHAMPIONS
Auch heuer gibt es wieder Gold-Unzen (Wiener Philharmoniker) im Gesamtwert von 6.000 Euro zu gewinnen – je 2.000 Euro für die "Amadeus Agility Worldcup Champions 2017" in den Klassen Small, Medium und Large. In diesem Sinne: GO FOR GOLD!
WIE WIRD GEWERTET?
Zur Wertung beim Amadeus Agility Worldcup: Gemäß einem vom Veranstalter vorgegebenem Punkteschlüssel qualifiziert sich eine gewisse Anzahl von Startern bei den Qualifikationsläufen für das große Finale, welches am Sonntag (10. Dezember 2017) stattfindet. In allen drei Größenklassen (Small | Medium | Large) werden die Amadeus Agility Worldcup Champions 2017 bei einem "American" ermittelt.
Payment information
Konto "Amadeus Agility Worldcup 2017"
Raiffeisenbank Bludenz-Montafon
IBAN: AT23 3746 8002 0141 0968
BIC: RVVGAT2B468
Judge
Lukac Roman, Schiltz Rolli
Part of a cup
Nein
Prices
Event(s)
Option
Price
Type
class
Small & Medium
Large

45,00
Überweisung (Vorkasse)
Results
Please login to dognow to register.
Filter:
Participants accepted: 112
Why not yet accepted participations are not displayed?
| Name | Dog | class | class |
| --- | --- | --- | --- |
| Aigner Lukas | Peach | LK3 | M |
| Almberger Rene | Gatsby | LK3 | S |
| Arcuri Mauro | Obi | LK2 | M |
| Bender Daniela | Simba | LK3 | S |
| Bíró Zsófi | Amico Terrier's Orion Sword | LK3 | M |
| Bíró Zsófi | Crispy Cookie Cassovia Sunshine | LK3 | S |
| Bonac Polona | Roo | LK3 | S |
| Boogk Silas | Beam me up | LK3 | M |
| Bozek Barbara | Cevin | LK2 | M |
| Brandl Angelika | Malou | LK3 | M |
| Bussolotti Andrea | Black river eye of tiger detta jamaica | LK3 | M |
| ditullio viennalisa | macchia | LK3 | M |
| Edrová Olga | Bodie Black | LK3 | S |
| Egli Patricia | Lina | LK3 | S |
| Ehrat Mirjam | Flynn | LK3 | M |
| Eichenberger Manuela | Bay | LK1 | M |
| Eichenberger Manuela | Win | LK3 | M |
| Fantini Davina | It's Me Joon | LK2 | S |
| Fenkart Judith | Mimi | LK3 | S |
| Fenkart Katrin | Chips | LK3 | M |
| Fenkart Katrin | Muffin | LK3 | M |
| Flicker Horst | Heidi | LK3 | S |
| Frey Michel | Queeni | LK3 | M |
| Frick Sonja | Yoshi | LK3 | M |
| Fried Katharina | Chili | LK3 | S |
| Friesenegger Nadine | Kazumi | LK3 | S |
| Friesenegger Nadine | Seeya | LK2 | S |
| Fuska Markus | Nala | LK3 | S |
| Geohelli Ana | Ita | LK3 | S |
| Härteiss Evelyn | Woody | LK3 | M |
| Hauser Sabrina | Layla | LK3 | M |
| Huber Gabriele | Datty | LK1 | M |
| Kafka Nathalie | Kabuki | LK3 | M |
| Káli Anita | Limit | LK1 | S |
| Kelpen Nicole | Kite | LK3 | M |
| Kelpen Nicole | Poke | LK2 | M |
| Kleinemeier Melanie | Kiro | LK1 | M |
| Kleinemeier Melanie | Rio | LK3 | M |
| Koidl Ami | Liv | LK3 | S |
| Konobelj Nataša | Riva | LK3 | M |
| Koprivnik Kris | Ice | LK1 | M |
| Koprivnik Kris | Seven | LK3 | S |
| Krauskopfova Lucie | Kessy | LK3 | S |
| Krejci Lukas | Absolute Speed | LK2 | M |
| Krejčí Tereza | Orchidee | LK3 | M |
| Leins-Bender Silvia | Whoopy | LK3 | S |
| Lenz Anne | Mia | LK3 | M |
| Lieppert Sandra | Beck´s | LK3 | M |
| Lindtner Gabi | Aileen | LK3 | S |
| Lubei Daniela | Ebby | LK3 | S |
| Lucke Christoph | Choice | LK3 | S |
| Magnoli Klimesova Martina | Kiki | LK3 | M |
| Marxer Sabina | Asti | LK3 | M |
| Marxer Sabina | Cosmo | LK3 | M |
| Marxer Sabina | Magic | LK1 | S |
| Meyer Katharina | Judy | LK2 | M |
| mihelic anze | Bandit Vodndavid sporting dog | LK3 | M |
| Mikec Manca | Energy is in me Elai | LK3 | S |
| Nagele Andrea | Willi | LK1 | S |
| Nigl Philip | Lisa | LK1 | M |
| Ortner Gerald | Buzz | LK3 | M |
| Oven Blaž | Fighter | LK3 | S |
| Oven Blaž | Ink | LK3 | M |
| Paulik Helmut | Kamikaze Kiwi | LK3 | M |
| Pirity Árpád | Demó | LK3 | M |
| Pirity Árpád | Lion Blue of Sprightliness | LK1 | M |
| Podjed Marusa | Nancy Blue vom Karntnerland | LK3 | S |
| Raatz Elena | Daya | LK3 | S |
| Raatz Elena | Tiptop Tekna | LK3 | S |
| Raschbauer Conni | LeGo | LK2 | S |
| Richelmi Elisa | Defy | LK3 | S |
| Richelmi Elisa | Link | LK2 | M |
| Riegler Karin | Kate | LK3 | S |
| Romere Piera | Kilian | LK3 | S |
| Rontag Elisabeth | Amy | LK3 | M |
| Santi Paola | Winningmood | LK3 | S |
| Scheibenstock Monika | Kimba | LK3 | S |
| Scheibenstock Siegfried | Neva | LK3 | S |
| Schröder Bozena | Cap | LK3 | S |
| Schröder Bozena | Puck | LK3 | M |
| Schröder Daniel | Cashew | LK3 | M |
| Schwab Claudia | Mitch | LK3 | S |
| Schwab Claudia | Mylo | LK3 | M |
| Šebková Lucie | Adélka | LK3 | M |
| Sohm Jayson | Ben | LK3 | M |
| Sohm Jayson | Eviva | LK3 | S |
| Staňková Marcela | Carlotta | LK2 | M |
| Strabler Christof | Aik | LK3 | M |
| Thomas Streckert | Sky | LK3 | M |
| Tomšič Iza | Volt | LK3 | M |
| Trkman Silvia | le | LK3 | M |
| Tutschku Jutta | Lennon | LK1 | M |
| Ullrich-Pansi Simone | Babou | LK3 | M |
| Unger Erwin | Dexter | LK2 | M |
| Vadagnin Sascha | Quaresse | LK3 | M |
| Vadlja Sibila | Ben | LK2 | S |
| Wachter Alfons | Dandy | LK3 | S |
| Weberling Hansi | Momo | LK3 | M |
| Weiss Bella | Amilo | LK2 | S |
| Weiss Bella | Shuba | LK3 | S |
| Wermelinger Nela | Fighter | LK3 | M |
| Wiesner Patricia | Balu | LK2 | S |
| Wiesner Patricia | Buddy | LK1 | M |
| Wüst Tobias | Dörte | LK3 | S |
| Zakotnik Dasa | Bones | LK3 | S |
| Zakotnik Dasa | Jasenak Aprilia | LK3 | S |
| Zakotnik Dasa | Kas | LK3 | M |
| Zakotnik Vladimira | Ela | LK2 | S |
| Zatzek Nicole | Adonis | LK2 | M |
| Zatzek Nicole | Coco | LK3 | S |
| Zenner Claudia | Wii | LK3 | M |
| Zurma Giulia | Lolita | LK3 | S |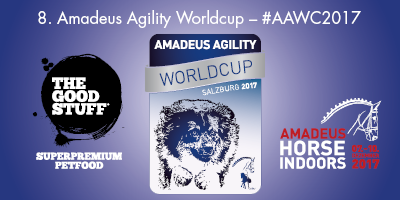 Organizer
Amadeus Agility Worldcup
www.facebook.com/agility.worldcup
Am Messezentrum 1, Salzburg, Österreich
(Am Messezentrum 1, 5020 Salzburg, Österreich)
Location
Am Messezentrum 1 5020 Salzburg, Österreich
---
Documents
---
Map
---