3. Der fliegende Teppich
---
Series of events
You can switch between all available events.
dognow Live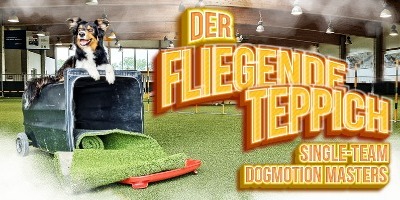 Start / estimated end
17.09.2022 / -
Organizer
ÖRV HSV Union Königstetten
Area
Agility
Location
Hundesportzentrum Dog-Motion, Langenlebarner Straße, Königstetten, Österreich
Subscribe start / end
29.06.2022 07:00 / 09.09.2022 23:59
Room / camping reservations
not available
Available runs
A-Lauf: LK1, LK2, LK3, Oldies
Open Jumping: LK1, LK2, LK3, Oldies
Weather archive (at the location)
broken clouds
11 °C ( 9 °C / 13 °C)
Description
Der fliegende Teppich - Single & Team DOGmotion Masters
Ein neuer Kunstrasen muss her, der Alte fliegt raus!
Wir freuen uns, wenn du uns mit deiner Teilnahme an diesem Bewerb unterstützt!
Es erwarten dich an jedem Wochenende je ein A-Lauf in Leistungsklassen und ein Jumping Open. 

Und du darfst dich auf einen echten Mannschaftslauf freuen!
Es gibt sowohl eine Cupwertung für den Single Bewerb als auch ein Finale für den Single und den Team Bewerb!
 

Das Jumping Open ist auch ein Mannschaftslauf. Mit echtem Mannschaftsfeeling - jede Mannschaft startet als Team direkt hintereinander!

Zusätzlich werden aus diesem Open noch die Einzelergebnisse für jede LK und GK für eine Tageswertung herausgerechnet.
 

Die besten 20% jedes Einzellaufs und die besten 20% jedes Mannschaftslaufs qualifizieren sich für das Finale am letzen Cup Tag.

Zusätzlich gibt es noch eine Single-Cupwertung!
 

Laufangebot:
A-Lauf

Jumping Open in Open 

Wertungen:
• Je Tag: Tageswertung, A-Lauf plus herausgerechneter Jumping je LK/GK aus dem Jumping Open in Open.
• Je Tag: Mannschaftswertung
• Cupwertung für Einzel
• Finale am letzten Sonntag für Einzel und Mannschaft
Nähere Details zur Durchführung findest du im Dokumentenbereich.
Payment information
1. und 2. Cup:
Samstag ODER Sonntag: 24 €
Samstag UND Sonntag: 44 €
3. Cup:
NUR Samstag: 24 €
NUR Sonntag 16 €
Samstag UND Sonntag 38 €
einlangend bis zum jeweiligen Meldeschluss
Bitte die Meldegebühr auf folgendes Konto überweisen:

Dog-Motion GmbH,
IBAN: AT65 3258 5000 0850 5216, BIC: RLNWATWWOBG

(Turnierdatum, Name, Hundename angeben)

Bei einer Abmeldung kann der Starter selbst für Ersatz sorgen. Nach Meldeschluss zum jeweiligen Turnier wird die Meldegebühr nicht rückerstattet. 

Die Meldung wird erst nach Zahlungseingang bestätigt!
Starter aus dem Ausland können im Falle hoher Überweisungsgebühren auf Anfrage auch gerne in Bar bezahlen.
Judge
Frick Sonja
Part of a cup
Yes, part of Der fliegende Teppich
Prices
There are no prices!
Please contact the organizer.
Results
Please login to dognow to register.
All events of this cup
Filter:
Participants accepted: 39
|
not yet accepted: 0
|
waiting list: 0
| Name | Dog | class | class | Team |
| --- | --- | --- | --- | --- |
| Dolezal Tanja | Lotta | LK2 | M | Die Coolen |
| Egermann Sabrina | Happy | LK1 | M | Muppets |
| Fenzl Barbara | Pina | LK3 | M | Völlig Wurscht |
| Fenzl Barbara | Tonic | LK2 | M | Völlig Wurscht |
| Fojt Marion | Emilia | LK3 | S | |
| Früh Sonja | Emma | LK1 | L | Doppelpack |
| Gartler-Rappold Karin | Blue Shanell | LK3 | L | Challenge accepted ! |
| Gartler-Rappold Karin | Ciwana | LK3 | M | Challenge accepted ! |
| Gerevini Anja | Edda | LK3 | L | Habibi |
| Gutlederer Maria | Dion Rollis de Luxe | LK2 | S | Die Coolen |
| Gutlederer Maria | Grace-Shoshana Rollis de Luxe | LK1 | S | Die Coolen |
| Hampl Brigitte | Tim | LK1 | L | Völlig Wurscht |
| Hirsch Angelika | Sammie | LK2 | L | |
| Januj Wolfgang | Jay-Jay | Oldies | L | Muppets |
| Januj Wolfgang | Tiponi | LK2 | L | Hüpfdihüpf |
| Kainz Vera | Grisu | Oldies | M | |
| Kainz Vera | Peet | LK3 | S | Hüpfdihüpf |
| Kainz Vera | Rory | LK2 | S | Hüpfdihüpf |
| Kaiper Lisbeth | Yuuwa | LK2 | L | Doppelpack |
| Kastner Astrid | Alisha | LK1 | L | Habibi |
| Kukula Verena | Eros | Oldies | M | Stanglhupfer |
| Meisel Eduard | Pina | LK1 | M | Hüpfdihüpf |
| Meisel Eduard | Yara | LK2 | M | Muppets |
| Minihold Nicole | Imp | LK3 | L | Challenge accepted ! |
| Novak Christian | Beauty | LK2 | M | Völlig Wurscht |
| Passecker Regina | MO | LK2 | L | Challenge accepted ! |
| Pawel Markus | Bae | LK1 | L | Doppelpack |
| Pawel Markus | Finn | LK1 | M | Doppelpack |
| Pichler Susanne | Fox | LK1 | M | Habibi |
| Pichler Susanne | Lea | Oldies | S | |
| Rentmeister Alina | Biscuit | LK1 | L | |
| Schulze Bianca | Brania | LK2 | L | Muppets |
| Stangl Ullrike | Dunni | LK2 | S | |
| Stangl Ullrike | Manni | LK3 | L | Stanglhupfer |
| Veizer Josef | Mogli | LK3 | L | Stanglhupfer |
| Veizer Josef | Sam | Oldies | L | Stanglhupfer |
| Zuser Lisa | Bäxx | LK1 | L | |
| Zuser Lisa | Cookie | LK3 | L | Die Coolen |
| Zuser Lisa | Fee Grand Elegance | LK1 | S | Habibi |