9. Amadeus Agility Worldcup 2018
---
Series of events
You can switch between all available events.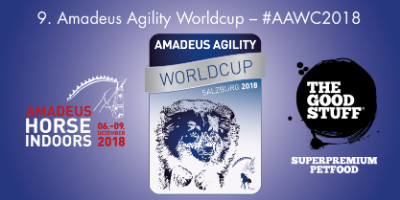 Start / estimated end
07.12.2018 / -
Organizer
Amadeus Agility Worldcup
Area
Agility
Location
Am Messezentrum 1, Salzburg, Österreich
Subscribe start / end
12.11.2018 16:00 / 16.11.2018 20:00
Room / camping reservations
available
Available runs
Open A-Lauf: LK1, LK2, LK3
Open Jumping: LK1, LK2, LK3
Weather archive (at the location)
broken clouds
9 °C ( 9 °C / 9 °C)
Description
Agility - schneller Sport für schnelle Hunde. Beim Amadeus Agility Worldcup treffen sich jedes Jahr kurz vor Weihnachten die besten Agility-Teams zum großen Show-Event. Attraktiver Hundesport auf Top-Niveau. Fast sport for fast dogs!
6000 EURO IN GOLD FÜR DIE AMADEUS WORLDCUP-CHAMPIONS
Auch heuer gibt es wieder Gold-Unzen (Wiener Philharmoniker) im Gesamtwert von 6.000 Euro zu gewinnen – je 2.000 Euro für die "Amadeus Agility Worldcup Champions 2018" in den Klassen Small, Medium und Large. In diesem Sinne: GO FOR GOLD!
WIE WIRD GEWERTET?
Zur Wertung beim Amadeus Agility Worldcup: Gemäß einem vom Veranstalter vorgegebenem Punkteschlüssel qualifiziert sich eine gewisse Anzahl von Startern bei den Qualifikationsläufen für das große Finale, welches am Sonntag (9. Dezember 2018) stattfindet. In allen drei Größenklassen (Small | Medium | Large) werden die Amadeus Agility Worldcup Champions 2018 bei einem "American" ermittelt.
Payment information
Konto "Amadeus Agility Worldcup 2018"
Raiffeisenbank Bludenz-Montafon
IBAN: AT67 3746 8003 0141 0968
BIC: RVVGAT2B468
Bitte schnellstmöglich einzahlen
Judge
Beitl Alexander, Biro Zsofi, Lukac Roman
Part of a cup
Nein
Prices
Event(s)
Option
Price
Type
class
Small

50,00
Überweisung (Vorkasse)
LK1, LK2, LK3
Results
Please login to dognow to register.
Filter:
Participants accepted: 58
Why not yet accepted participations are not displayed?
| Name | Dog | class | class |
| --- | --- | --- | --- |
| Almberger Rene | Gatsby | LK3 | S |
| bellini marta | VIA LATTEA | LK3 | S |
| Berger Thomas | Noobsi | LK1 | S |
| Edel Claudia | Chicca | LK1 | S |
| Ehrat Mirjam | Unit | LK1 | S |
| Englmanova Miroslava | Emily Sky | LK3 | S |
| Enzelberger Nathalie | Kiwi | LK3 | S |
| Fantini Davina | It's Me Joon | LK2 | S |
| Fürstlová Lenka | Nexee | LK3 | S |
| Fuska Markus | Cerry Lee | LK3 | S |
| Herzog Anna | Ayleen | LK3 | S |
| Ivanis Silvi | Flurry | LK3 | S |
| Jenny Stefanie | Lucky | LK2 | S |
| Kahr Manuela | Bakira | LK3 | S |
| Keßler Saskia | Mela | LK3 | S |
| Kleinrubatscher Christina | Jamie | LK3 | S |
| Koprivnik Kris | Seven | LK3 | S |
| Krauskopfova Lucie | Kessy | LK3 | S |
| Kunkel Susanne | Sany | LK3 | S |
| Leins-Bender Silvia | Simba | LK3 | S |
| Leins-Bender Silvia | Whoopy | LK3 | S |
| Lindtner Gabi | Aileen | LK3 | S |
| Lubei Daniela | Ebby | LK3 | S |
| Lucchi Alexandra | Rap | LK3 | S |
| Martin Patrick | Grisu | LK3 | S |
| Marxer Sabina | Princess | LK3 | S |
| Nagele Andrea | Willi | LK2 | S |
| Okanovic Sandi | Happy Hour Of Summergarden | LK3 | S |
| Oven Blaž | Fighter | LK3 | S |
| Piske Mina | Monk | LK3 | S |
| Podjed Marusa | Nancy Blue vom Karntnerland | LK3 | S |
| Raschbauer Conni | LeGo | LK3 | S |
| Richelmi Elisa | Defy | LK3 | S |
| Riegler Karin | Kate | LK3 | S |
| Ringer Claudia | Sky | LK2 | S |
| Rüegge Corina | Kewee | LK3 | S |
| Russo Raffaella | Abigail | LK3 | S |
| Šaling Monika | A Little Star | LK3 | S |
| Šaling Monika | Zuri | LK1 | S |
| Scheibenstock Monika | Kimba | LK3 | S |
| Scheibenstock Siegfried | Neva | LK3 | S |
| Schlager Monika | Maja | LK2 | S |
| Schlemaier Gabriele | Pepino | LK1 | S |
| Schneider Nicol | Fame | LK3 | S |
| Schwab Claudia | Mitch | LK3 | S |
| Seidl Judith | Cayo | LK3 | S |
| Stangl Julia | Mr. Tiny | LK3 | S |
| Ströhle Lizandra | Lou | LK3 | S |
| Ströhle Lizandra | Yoki | LK3 | S |
| Teufl Bianca | Zina | LK3 | S |
| Vakonic Pavol | Meryl Marion of Summergarden | LK3 | S |
| Wachter Alfons | Dandy | LK3 | S |
| Weiss Bella | Amilo | LK2 | S |
| Weiss Bella | Shuba | LK3 | S |
| Zakotnik Dasa | Bones | LK3 | S |
| Zakotnik Vladimira | Ela | LK2 | S |
| Zakotnik Vladimira | Jasenak Aprilia | LK3 | S |
| Zurma Giulia | Lolita | LK3 | S |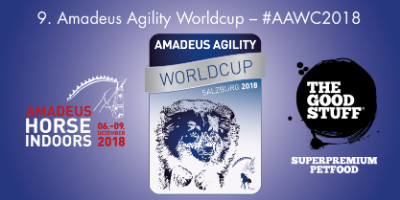 Organizer
Amadeus Agility Worldcup
liveservice@meznar-media.com
Am Messezentrum 1, Salzburg, Österreich
(Am Messezentrum 1, 5020 Salzburg, Österreich)
Location
Am Messezentrum 1, Salzburg, Österreich
(Am Messezentrum 1, 5020 Salzburg, Österreich)
---
Documents
---
Map
---