2. Stockerauer Herbst 2020
---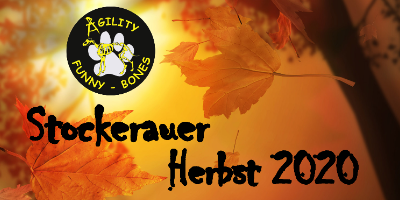 Start / estimated end
01.11.2020 / -
Organizer
ÖRV HSV Stockerau Nord Agility Funny Bones
Area
Agility
Location
Agility Funny Bones Hundesporthalle, Franz-Schuhmeier-Straße, Stockerau, Österreich
Subscribe start / end
01.08.2020 08:00 / 13.10.2020 23:59
Room / camping reservations
not available
Available runs
2 A-Läufe für LK1 und LK2
1 A-Lauf und 1 Jumping für Oldies und LK3
Weather archive (at the location)
light rain
11 °C ( 10 °C / 11 °C)
Description
Aufgrund der aktuellen Entwicklung der Coronavirus-Infektionen haben wir uns folgendes überlegt:
Wir wollen euch auf jeden Fall bei unserem Stockerauer Herbst am 26.10. und 01.11 spannende und sichere Turniertage anbieten. Um den verschärften Maßnahmen Rechnung zu tragen werden wir an beiden Tagen, so wie bei unserem Turbo-RuckZuck-Doppel, die Leistungsklassen nacheinander abwickeln. Nach jeder Leistungsklasse gibt es im Anschluß die Siegerehrung mit der Bitte die Halle zu verlassen um für die nächste Leistungsklasse Platz zu machen. So werden nie mehr als max. 50 Starter anwesend sein.
Es werden jeden Tag die drei ersten der Tageswertung (aus beiden Läufen nach Zeit/Fehler bzw. in der LK3 JM-Punkte) in jeder Leistungs- und Grössenklasse prämiert. Zusätzlich werden aus allen 4 Läufen die Cupsieger ermittelt.
Es ist im Aufenthaltsbereich, in der Kantine und im Sanitärcontainer ausnahmslos Maskenpflicht (ausgenommen der folgende Starter und die nächsten zwei in Vorbereitung) - auch die Besichtigung bitte nur mit Mund-Nasen-Schutz.
Wir hoffen trotzdem auf zahlreiche Meldungen - die Teilnehmerzahl ist auf 50 Personen pro Leistungsklasse beschränkt.
Payment information
Konto: "Hundesporthalle"
IBAN: AT10 3284 2000 0752 6676
BIC: RLNWATWWSTO
Judge
Mladek Sonja , Wöss Christian
Part of a cup
Yes, part of Stockerauer Herbst 2020
Prices
Event(s)
Option
Price
Type
class
2. Stockerauer Herbst 2020

22,00
Überweisung (Vorkasse)
LK1, LK2, LK3, Oldies
2. Stockerauer Herbst 2020

From the 2nd dog
20,00
Überweisung (Vorkasse)
LK1, LK2, LK3, Oldies
1. Stockerauer Herbst 2020
2. Stockerauer Herbst 2020

40,00
Überweisung (Vorkasse)
LK1, LK2, LK3, Oldies
Results
Please login to dognow to register.
All events of this cup
Filter:
Participants accepted: 112
|
not yet accepted: 0
|
waiting list: 0
| Name | Dog | class | class |
| --- | --- | --- | --- |
| Angerer Andreas | Cido | LK3 | L |
| Angerer Andreas | Dean | Oldies | L |
| Angerer Dagmar | Cody | LK3 | L |
| Baltarowicz Sabrina | Nino | LK3 | M |
| Bilek Rudolf | Bobby | LK2 | M |
| Bilek Sabine | Lily | LK2 | S |
| Brenner Verena | Joey | LK3 | L |
| Brenner Verena | Louie | LK2 | L |
| Brinkmann Birgit | Lina | LK2 | S |
| Brinkmann Birgit | Zazu | LK1 | S |
| Brix Peter | Cody | Oldies | L |
| Burger Andrea | Nico | Oldies | L |
| Calisir-Furian Fatma | Delta | LK2 | L |
| Charvat Isabelle | Bailey | LK2 | M |
| Charvat Madelaine | Arizona | LK2 | L |
| Curin Manuela | Arun | LK3 | L |
| Curin Manuela | Atomic | LK3 | L |
| Dippold René | Lewis | LK1 | L |
| Ericson Anita | Nanni | LK3 | L |
| Feldkirchner Christina | Annie | LK1 | L |
| Feldkirchner Christina | Kimmy | LK3 | L |
| Fellermayr Alexandra | Timo | Oldies | M |
| Fiegl Andrea | Carlo | LK1 | L |
| Fischer Sonja | Clair | LK1 | L |
| Fischer Sonja | Elvis | LK3 | L |
| Fischer Sonja | Shep | Oldies | L |
| Flicker Horst | Kaycee | LK2 | S |
| Flicker Horst | Oda Mae | LK2 | S |
| Friesenegger Nadine | Mr. Tiny | LK3 | S |
| Gahleitner Thomas | Flash | LK2 | M |
| Gartler-Rappold Karin | Ciwana | LK2 | M |
| Gerevini Anja | Edda | LK3 | L |
| Gruber Katharina | Wii | LK2 | L |
| Gschwandtner Helmut | Ace | LK2 | L |
| Haberreiter Andrea | Sophie | LK2 | S |
| Haberreiter Karl | Nala | LK1 | S |
| Halwachs Susanne | Neal | LK1 | L |
| Hampl Brigitte | Yes | LK3 | L |
| Heinicke Sandra | Cody | LK3 | L |
| Hentrup Marleen | Kay | LK2 | S |
| Hertenberger Inge | JuJu | Oldies | S |
| Hertenberger Inge | Minou | LK3 | S |
| Holler Elke | Henry | LK2 | L |
| Horvath Doris | Kono | LK1 | S |
| Kantz Susanne | Bärli | LK1 | M |
| Kastner Ingrid | Cici of Austrian Diamonds | LK1 | L |
| Kerschbaumer Marion | Rémy | LK2 | L |
| Kleiter Miriam | Pia | LK1 | L |
| König Katharina | Juno | LK3 | L |
| König Katharina | Linus | LK3 | L |
| König Katharina | Trigger | LK3 | L |
| König Katharina | Wanda | LK2 | L |
| Krivka Michaela | Betty | LK3 | S |
| Krivka Michaela | Pippilotta | LK3 | M |
| Kronus Martina | Colour Kaschmir Hannah | LK3 | S |
| Kronus Paul | Bessy | Oldies | L |
| Kronus Paul | Mirli | LK2 | S |
| Kukula Verena | Eros | LK2 | M |
| Lab Alexander | Ebby | LK3 | L |
| Lab Josef | Salve | LK1 | M |
| Lab Petra | Xena | LK2 | S |
| Langer Sandra | Denver | LK3 | L |
| Langer Sandra | Las Vegas | LK3 | L |
| Lenotti Carina | Puk | LK3 | L |
| Lovass Lara | Infinity | LK3 | L |
| Mandl-Mösinger Helene | Bendix | LK3 | L |
| Mandl-Mösinger Helene | Gin | LK3 | L |
| Mandl-Mösinger Helene | Ro | LK3 | L |
| Mlaker Renate | Buddy | LK2 | L |
| Mösinger Manfred | Alice | LK1 | L |
| Pichler Susanne | Gini | Oldies | M |
| Pichler Susanne | Lea | Oldies | S |
| Poindl Uschi | Letty | LK3 | M |
| Posch Gabriele | Anou | LK3 | S |
| Posch Gabriele | Joker | LK1 | L |
| Posch Gabriele | Lini | LK3 | S |
| Posch Gabriele | Toto | LK1 | S |
| Posch Reinhard | Ayk | LK3 | L |
| Posch Reinhard | Bill | LK3 | L |
| Prinz Hannah | Abby | LK3 | S |
| Redl Claudia | JayDee | LK3 | L |
| Reihs Martina | Mina | LK1 | S |
| Reihs Martina | Motte | Oldies | S |
| Riegler Karin | Faye | LK3 | S |
| Riegler Karin | Kate | LK3 | S |
| Ritter Günter | Junior | LK2 | S |
| Ritter Vera | Fiby | LK3 | S |
| Rosen Kristina | Kite | LK3 | L |
| Rosenberger Sophie | Light | LK2 | S |
| Rösner Sabrina | Oak | LK2 | M |
| Roswald Melanie | Sam | LK2 | S |
| Schäfer Doris | Zookie | LK3 | S |
| Schmid Manuela | Jamaala | LK2 | L |
| Schützenhofer Jacqueline | Iken | LK2 | L |
| Stangl Ullrike | Manni | LK3 | L |
| Swoboda Elisabeth | Mosquito | LK3 | S |
| Swoboda Elisabeth | Ticksi | LK2 | M |
| Trummer Evi | Kari | LK3 | L |
| Unger Erwin | Dexter | LK3 | M |
| Urban Julia | Hope of South Styrian Mountain | LK2 | L |
| Urban Julia | Kio | LK2 | L |
| Veizer Josef | Mogli | LK2 | L |
| Veizer Josef | Sam | Oldies | L |
| Wegbauer Angelina | Finn | LK3 | M |
| Wieser Maria | Chi | LK2 | L |
| Wittmann Silvia | Joy | LK3 | L |
| Wittrich Jennifer | Qju | LK1 | L |
| Wolfmayr Karl | Siwa | LK1 | L |
| Wunsch Doris | Little Diamond | LK3 | L |
| Zwettler Andrea | Bella | LK1 | S |
| Zwettler Andrea | Brenda | LK3 | S |
| Zwettler Tanja | Aruba | LK2 | L |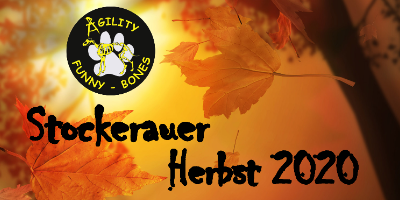 Organizer
ÖRV HSV Stockerau Nord Agility Funny Bones
funnybones@krivka.at
Grossmannstraße 1220 Wien, Österreich
(Grossmannstraße, 1220 Wien, Österreich)
Location
Agility Funny Bones Hundesporthalle, Franz-Schuhmeier-Straße, Stockerau, Österreich
---
Documents
---
Map
---